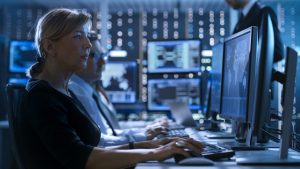 There are nearly 32 million small businesses across America, and they're all responsible for the health, safety, and security of their workers–at least while on and at the job. Simple security measures and safe reporting methods go a long way to help ensure the business stays afloat. But sometimes that's simply not enough. Company loss can occur right under your nose and result in the complete destruction of your business if you're not careful and willing to investigate potential concerns. But what are the primary reasons to perform a corporate investigation?
Background Checks
Background checks are usually run on prospective employees towards the final stages of the hiring process. But it's important to have the option to continue that process on existing employees. Life status and work requirements can change pretty quickly. Ongoing or relatively consistent background checks can help ensure your employees remain motivated and honest, as well as limit safety risks and reduce future financial loss. This is often one of the easiest and least painful "corporate investigations".
Abuse or Harassment
Physical and verbal sexual harassment of any type at the workplace is illegal across the United States. Even simple teasing can escalate to harassment and abuse. But known abuse and harassment at the workplace aren't just of a sexual nature. Bullying, arguing, and assault can also occur between employees with strong or different opinions and personalities. Unfortunately, most harassment goes unreported for one reason or another. Such behavior can quickly create a toxic work environment and result in a necessary corporate investigation to determine the causes and remedies of the situations.
Discrimination Claims
HR and management departments are run by actual human beings with opinions. But when it comes to hiring or advancing someone in their position, discrimination can not legally be a factor. Discrimination suits across America may be filed for discriminatory behavior based on a person's color, disability, familial status, race, religion, and sex or gender. A corporate investigation may be required to decipher and conclude whether a single individual or the entire business is responsible or liable for the discrimination.
Employee Theft
According to recent business statistics, approximately 75% of businesses struggle with employee or internal theft. And $.20 of every $1 earned is lost to employee theft. Those losses can snowball in the blink of an eye, and that can be a primary cause for bankruptcy for many businesses. It's usually best to keep quiet when you discover those issues and simply undergo a full corporate investigation. That way, the right expert investigative help can pinpoint the issue and suggest solutions to getting your business back on track.
Internal Investigations
The more control and knowledge an employer has of the internal workings of their business, the more successful that business will be. Workplace safety and success is built by its employees, so issues such as bribery, fraud, harassment, injuries, and money laundering can quickly destroy your company's reputation and future prospects. A corporate investigation can enlist expert investigative help to collect unbiased information, stop current concerns in their tracks, and prevent serious future problems from occurring. Give us a call when you're ready to keep a closer eye on your bottom line and secure future success.