A quick search of a private investigator or an investigative agency can pull up a wide variety of options, from individual PI's to large security firms. In fact, if you search on Google, you will be given the local PI's near the top of the list. Choosing from this list can be intimidating, especially if you have never used the services of an investigator. You could simply close your eyes and point to a name, use the throw-a-dart technique, or just pick the PI who is physically the closest, but we wouldn't recommend any of these approaches! As a reputable, trusted investigative agency that works with facts, we suggest making an informed decision. Allow us to help.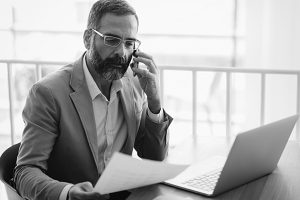 Not All Agencies are Created Equal
Most investigative agencies can provide an array of services, such as surveillance, background checks, and due diligence, but the quality of those services can differ dramatically. That's why it's important for you, as the client, to conduct your own "due diligence" before hiring an agency.
Here are some things you should consider when choosing an investigative agency:
Experience – Just as you would verify a candidate's background and work experience before hiring him or her, it's important to look at an investigative agency's credentials, training and experience. A review of their website should answer these questions:
How many years have they been in business?
Are they licensed and insured?
What type of clients have they worked with (i.e., individuals, corporations, attorneys) and what type of investigations have they conducted (i.e., background checks, surveillance, litigation support, etc.)?
Are they members of professional societies, such as the Society of Competitive Intelligence Professionals (SCIP), the National Society of Investigation and Security Services (NCISS) and others?
Are they willing to provide references/referrals? There is nothing more reassuring than talking with someone who has used the agency with positive results!
Expertise – While individual PI's or small firms must be the "jack-of-all-trades," some agencies offer specialized divisions designed and staffed to serve specific needs. This depth-of-knowledge allows them to get the job done more effectively and efficiently, often saving you time and money. To determine an agency's level of expertise, ask the following:
Do they have a staff of experts that specialize in different areas, such as legal services, corporate services and private client services?
What type of training and experience do their investigators have?
Consultations – A reputable agency will offer a free consultation to discuss your individual needs. They should take the time to answer all your questions and let you know what steps will be taken to handle your case – and be prepared to refer you to someone else if they can't help you. During this consultation, be sure to ask:
Have you handled cases like this before? How many?
What steps are involved or what does the process look like?
How will I be charged (retainer or hourly) and what will be included in those charges?
What will the end product be (i.e., type of report, photos, evidence)? Can you provide examples of reports? Are they thorough, professional-looking, and easy-to-understand?
Will I be working directly with the investigator on my case?
How long will this service take? (This may be especially important if the issue is time sensitive.)
What are some potential roadblocks or issues that may arise in a case like this?
Do you offer any guarantees regarding your services?
Customized Services – Some large firms offer a menu of standard services. However, every case is unique, requiring a wide variation in investigative work and reporting. Therefore, a good investigative agency should be willing to tailor their services to your specific needs. Look for an agency that begins the process with a thorough consultation and offers personalized service based on that meeting. A cookie-cutter approach will often result in the client spending more than necessary on too much information or not receiving enough data to make a good decision.
Professionalism – You can learn a lot about an agency's professionalism by meeting with them in person for an interview. Aside from the obvious cues, such as the office environment, how does the staff interact with you? Are your calls answered promptly or do you receive voicemail? Are your questions answered thoroughly or evasively? Is confidentiality guaranteed?
Once you've completed your "investigation" and you're ready to work with an agency, be sure you receive an official written agreement or contract.
Who Can You Call?
Still unsure who you should call? Allow us to introduce ourselves.
We are ASG Investigations, a full-service professional investigative agency offering an unmatched depth of integrated resources, talented investigators and the experience to anticipate and respond to the ever-changing needs and risks that our diverse clients face today.
When it comes to experience, we have it! Since 1999, ASG Investigations has represented a diverse range of clients, including individuals, corporations (both large and small), and law firms. Over the years, we've earned a reputation as a trusted partner. In fact, many of our clients tell us they can rest easy knowing they have entrusted their matter to an investigative agency that consistently delivers results that exceed their expectations, represents them in a professional manner and does so discreetly and confidentiality. We'd be happy to provide references.
ASG Investigations has the largest investigative staff in Michigan, which allows us to provide expertise in every area of investigative services. For instance, our Corporate Services team helps corporate clients, from HR and corporate counsel, to security and risk management, to mitigate threats, both internal and external, to their business. Corporate misconduct, which comes in many forms, can be detrimental to a company's bottom line and their reputation. Our corporate experts can safeguard a company's proprietary information, confirm the trustworthiness of employees and partners, and maintain the security and safety of a company and its employees.
Meanwhile, our Legal Services team supports litigation for lawyers and attorneys. Because this group works exclusively for attorneys and represented clients, they are highly experienced in a wide variety of investigative litigation support roles. Our legal clients benefit from our almost unrivaled ability to get the information and evidence that can make the difference in their cases.
Finally, our Private Client Services group focuses on cases for individuals and families. These matters are often very personal and painful for the client, which makes the discretion and privacy that ASG Investigations is known for, even more important. We are experts in finding the truth, helping people end the fear and anxiety of the unknown, with both empathy and professionalism.
Although ASG Investigations is well-staffed with experts, we do not take the one-size-fits-all approach of many large agencies. We offer free consultations during which we collaborate with our clients in order to tailor our services to their needs. Our highly-personalized approach makes our services both affordable and results-oriented.
While each case is unique, every client receives usable, easy-to-understand reports. At ASG Investigations, there is no such thing as a "standard" report or background check. Instead of receiving volumes of useless data, we package our information in a way that gives clients the information they need – which is actionable intelligence versus basic information.
If you're looking for a trustworthy, reputable partner for your investigative needs, give ASG Investigations a call for a free, confidential consultation at 888-677-9700. When it comes to investigative services and intelligence gathering, we look forward to becoming your "unique solution."