Unsurprisingly, conducting an international background check requires consideration to many more factors than a standard background check.  Whether you are screening employees crossing the border from Canada or conducting international due diligence investigations before investing in Korean companies, it is worth the time and effort to complete these checks.  As experts in this area, we can help you to find the information you are looking for, but there are some things to consider when assigning a file to an investigator.  Here's a look at some of the major areas of concern.
An international background check does not need to be complicated, let us make it simple for you!
Time frame – An international background check takes a little longer than a local one.  Shocking, right?  Even with all the advancements society has made with technology, there are still many countries across the globe without efficient records systems.  Just take a look at Africa: Nigeria adopted a Freedom of Information Act in 2011 and all requests must be provided to the applicant within 7 days.  Could a war-torn country like South Sudan quickly answer a Freedom of Information request, when the government is in total upheaval?  Even with a nice, little note saying "we're conducting an international background check on John Doe.  We appreciate the help", it is unlikely that we would receive a response anywhere close to 7 days.
Privacy laws – Just like every state has unique laws regarding privacy, so do countries.  There is no standard format involved with conducting an international background check, and some types of information can be obtained and others cannot.  For example, in areas of Canada, criminal records check will only include charges the individual was found to be guilty.  Here in the U.S., we can conduct many governmental searches without authorization from an individual and we can submit reasonable requests for information not located online.  While conducting an international background check, an investigator will need to be knowledgeable about the laws regarding their searches, and what results they can provide to you.
Location – In similar way to specified privacy laws, investigators and clients must be aware of the areas they are conducting an international background check.   If an individual owns multiple businesses spanning over different regions, counties, territories, or even countries, information should be gathered from all locations.  A person may list an address as their primary residence but if they were in the military or utilize another address when they conduct business away from home, it is likely that there is information associated with those areas.  An international background check should not simply be running the person's name through a database, it should require more thought and attention to all aspects of an individual's life.
If you are in need of an international background check, give us a call.  We can answer all your questions ahead of time and help you through initiating an international background check and try to give you a realistic expectation of the time frame before you make a final decision about assigning the file.  Here at ASG, we have experts on staff with the experience you need and can keep you updated through the whole investigation!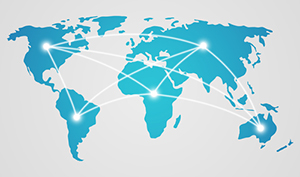 Sources
http://www.freedominfo.org/2014/12/south-sudan-approved-right-information-law-2013/
https://www.lexology.com/library/detail.aspx?g=4c07c8c0-4ece-4e72-b9fd-6c9f698a6041
https://lawpadi.com/how-to-make-a-freedom-of-information-request-in-nigeria/