Whether you are considering a New Jersey Background Check for screening a potential employee or simply to learn the truth about someone's background, it is important to understand that most new jersey background checks will fall short of your expectations. The good news is, the perfect New Jersey background check, one that gives you the maximum amount of real information at a reasonable price, is out there.
Most of the "New Jersey Background Check" Websites Just Scrap Free Public Records and Toss Them into a Report. They Only Look in a Few Places and The Customer Never Knows.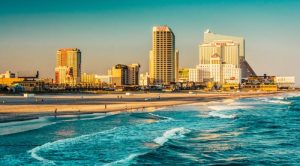 Here is what goes into the Perfect New Jersey Background Check:
You have to start with the understanding that a perfect New Jersey background check is not confined just to New Jersey. The truth is, New Jersey is an exceptionally diverse state, is a geographically small state, much of it is part of one of two massive urban areas and it includes many major industries that drawn in talent from across the globe.
To begin with, New Jersey is incredibly racially diverse. Twenty-one percent of state residents were born outside the U.S., compared to 13 percent for the US as a whole. South Paterson is a dynamic middle eastern neighborhood, Union City is largely a Latino community, Newark is now very Portuguese and Brazilian than anything else and Iselin is predominately Indian, while Palisades is known as a Korean neighborhood. These are just some examples of the state's diversity. Overall, the Asian population in New Jersey has exploded and now comprises more than 8%. Although some of these people have immigrated from outside the US, many have a history of living in other parts of the east coast and have moved here more recently. Those people all have a history, and presumably, records some place else that you should know about when buying a New Jersey background check., yet the majority of online background check sites won't even mention this let alone offer to include those in your report.
The next important point to consider is that more than half of the state is considered to be part of metropolitan New York City. There is no way to do a realistic New Jersey background check on someone from the northern part of the state without including New York City searches in the mix. So many people living in that region cross the border for work, relationship, social activities and more, added to the large number who have family in NYC that it is impossible not imagine that records likely exist for many New Jersey residents within New York.
Unlike some states that are losing population, many people are drawn to relocate to New Jersey for work in the pharmaceutical, financial and telecom industries. These new job seekers from other states all have a history outside of New Jersey that can contain vital information that needs to be included in any good New Jersey background check.
Another interesting thing that needs to be factored in when designing the perfect New Jersey background Check is the fact that the state of New Jersey has many small counties with large populations. This tight population in so many counties mandates that each county in the region around your subject be searched.
Many online New Jersey background check providers will only search the free, online county records. That's not so perfect.
Lastly, and for many most importantly, one has to look at all levels of criminal records when conducting the perfect New Jersey background check. These records reside at different levels. In some instances, a felony is reduced to a misdemeanor because the prosecution's case is weak or as part of a plea deal. If you only look at felony records, you would miss critical information you want to know about a person. Crime is a big problem in New Jersey and with jail overcrowding, the system is putting more criminals back on the streets of New Jersey as part of early parole problems. They could be right next door. In communities like Camden, Trenton and Elizabeth, very high crime rate areas, criminal records are common. If you are looking for records in Camden, you need to jump across the border to find records which likely exist in Philadelphia Pennsylvania. Trenton is the same, also bordering on Pennsylvania.
If you are interested in obtaining a REAL New Jersey background check, you can find detailed information about our services and how we can get you real information, quickly and affordably here: New Jersey Background Checks