ASG is Southeastern Michigan's #1 in Locate Investigations Making Us an Asset to Your Legal Team When it Comes to Locating Witnesses. Call Us Today at (855) 997-2800 to Discuss Your Options!
A Better Mousetrap for Locating Witnesses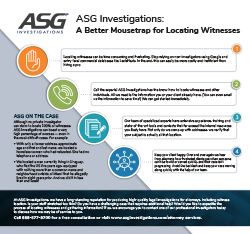 Sometimes locating a witness for a case and taking his or her statement is a straightforward process. And, other times it's akin to finding a needle in a haystack – a time-consuming exercise in frustration! As an attorney, you know there is often a significant amount of work involved in the job to locate witnesses – and often this alone will not get the job done. All the while, your client is getting frustrated and upset with you.
You could depend on paralegals using LexisNexis and other limited tools, or you could take advantage of the expertise of a professional investigative agency to save you time and money, as well as reduce client dissatisfaction.
Rely on Experts
That's why many attorneys rely on professional investigative agencies, such as ASG Investigations, to locate witnesses and obtain statements that win their cases. Our licensed private investigators who work for attorneys are well-versed in the methods and art of locating people like witnesses and individuals who need to be served with civil process. Not only are our investigators trained to locate people, they have the right tools for the job – from state-of-the-art computer data sources to extensive networks of contacts and resources across the country, and across the globe.
Although no private investigator can claim to locate 100% of the people they are tasked with finding, ASG Investigations can boast a very high percentage of success – even in the most difficult cases. For example:
With only a former address, approximate age and first and last name, ASG Investigations was able to locate a homeless woman who had relocated from North Carolina to the Tampa Bay, Florida area. She had no telephone and no addresses in Florida. Despite the limited information we received, we were able to find this witness and close the case.
In another case, ASG Investigations was asked to locate a man for service of process who had fled Michigan in an attempt to avoid civil lawsuits and a criminal investigation. We were able to track him down through some sophisticated Internet profiling based on a hobby and found him in suburban Los Angeles living with a woman who did not even know his true identity.
These are just two examples of the many challenging cases we've successfully completed for our legal clients.
Obtain Effective Statements
However, locating a witness is just the first step. Obtaining statements that stand up to intense scrutiny in court is equally important to your case, and it requires both experience and training. Over the years, we've had the privilege of working with a large number of attorneys to locate witnesses and then obtain recorded and written statements from them.
In fact, we have a group of investigators who specialize in this area. Many of our investigators are graduates of the Reid School of Interviewing and Interrogation, a firm that has trained countless members of law enforcement in the art of proper interviewing techniques.
Outsource for Success
Because of our vast experience working with law firms, we know that attorneys and their staff are busy people. By outsourcing strategic research, information gathering, witness location and statement acquirement, you can free up valuable resources to focus on other tasks necessary for preparing successful cases. The specialized skills of a professional investigative agency can supplement your legal work to create a stronger case, support a theory or provide integral details.
At ASG Investigations, we have a long-standing reputation for producing high-quality legal investigations for attorneys, including witness location. Is your staff stretched too thin? Do you have a challenging case that requires additional help? Would you like to expedite the process of locating witnesses and gathering information? If so, we encourage you to contact one of our professional investigators today to discuss how we may be of service to you.
Call (855) 997-2800 for a free consultation or visit www.asginvestigations.com/attorney services.